London–European countries expressed shock at the deaths and migration in the Mediterranean Sea over the weekend, even though the crisis has been going on for months. They tried hard to avoid one key crux of the problem: anarchy in Libya.
This is the missing link in European hand-wringing over the boat people crisis that has brought tens of thousands of migrants, mostly from sub-Saharan countries, to Italy. Before getting to the Mediterranean, they traverse Libya, which is in the calloused hands of a pair of warring governments and a multitude of armed militias.

It's hard to get anyone in Europe to pronounce the word Libya in regards to the problem. Which is odd, since Europe was involved in overthrowing Moammar Gaddafi and his regime in 2011. Libya's been anarchic ever since.
Here in London, Prime Minister David Cameron said that he would back European Union efforts to "crack down on the terrible traffickers and people smugglers who are at the heart of this problem." He didn't say where these criminals operate. It happens to be Libya in, which Cameron visited in 2011 to celebrate Gaddafi's downfall and in 2013, when he traveled around Tripoli in a 16-armored car caravan and said everything was improving.
Monday, he also said the countries where the refugees come from need help. Here's a partial list: Somalia, Eritrea, Ethiopia, South Sudan, Nigeria, Ghana, Niger, Chad, Mali, Syria.
French president Francois Hollande called for "concrete measures," as opposed to ephemeral ones, I suppose.
In Italy, where officials at least seem to know where Libya is, reporters questioned Prime Minister Matteo Renzi about what to do. Military intervention is "not on the carpet," he said. No, also, to a naval blockade.
It is mystifying that European leaders are suddenly agreeing to step up  efforts to hinder migration. Just a few months ago, they reduced coastal patrols even though migration had long been in full swing.
And the Obama Administration? The State Department comment on the crisis was almost laughable in its evasion. The US is giving aid to "points of origin" from whence the refugees come. The US is providing aid to Syrian refugees, too. Libya was not mentioned and no one at the briefing asked about it. Much like Iraq, no one seemed to think of the unintended consequences of regime change.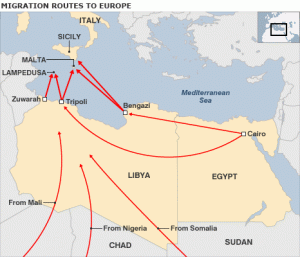 The problem is deep and vexing. Migrant smuggling is run by the militias that run rampant in Libya. They are armed and dangerous. Smuggling provides them with money. Migrant smuggling took place even while Gaddafi was in power, though his secret police shut it off when it suited him (for instance, when Italy provided foreign aid).
Monday, the EU issued a tentative ten-point plan to resolve things. Officials were meet Thursday to try to put meat on these emergency bones:
Reinforce the EU's maritime patrolling operations with more ships, money and wider patrols.
Make a systematic effort to capture and destroy vessels used by the people smugglers.
Initiate civilian and military activities(no details given).
Have the EU's law enforcement, border control, asylum and prosecutorial agencies will meet regularly to figure out how the smugglers operate.
Deploy teams in Italy and Greece to process asylum applications.
Fingerprint the migrants (an anti-terrorist measure).
Figure out where to put the migrants.
Launch  a voluntary program to resettle refugees across the continent.
Establish a program to get "irregular" migrants back to their homeland.
Engage with countries surrounding Libya (not clear why).
Deploy immigration officers to gather intelligence.
But Libya needs to be pacified. That's means something more than rounding up a few criminals or dismantling boats.
In the meantime, the migrants will continue to flock to Libya from all over. Italy says one million are waiting there to embark.
I already wrote about the issue last week.
This report shows the problem was hardly unknown.
Things EU fears and one reason why EU formulas won't work.