Miami–Cuba is giving Fidel Castro a weepy goodbye on his 90th birthday today. In the official press, at least, Cubans are sad because the Comandante is approaching death "like everybody else," as he told the Communist party congress in April.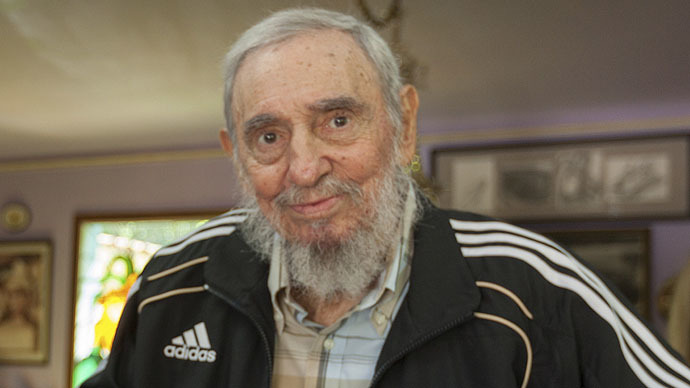 This morose finale is being played out against the backdrop of Fidel's continued discomfort with the changes of Communist rule in Cuba introduced by his brother and now-in-charge President Raul Castro. He hinted at it, in a backhanded way, in his talk to the party congress when he told his comrades their time had not passed, appearances to the contrary: "The ideas of Cuban communists," he said, "Will live on to prove that if a country works with dignity and fervor, we can produce the necessary goods for our nation."

No they won't and not just because communism failed to produce goods, but instead promoted bureaucratic stagnation, lethargy and corruption across a society of scarcity. Under Raul, Cuba has been converted into a classical military-familial oligarchy in which relatives and cronies of the Castro family stand to benefit from the new economic opening. Marxism is but a veil over new venality.
Raul's buddies from the military are in charge of numerous state industries and his relatives control some of the most potentially lucrative agencies, including hotels, domestic airlines and mines. The scions of old revolutionaries frolic abroad and the new bourgeoisie dress up bejeweled for nights at the old National Theater downtown. Since little has changed in the landscape of Havana in sixty years, it all looks like a time warp back to the pre-revolutionary Fulgencio Batista era. And that old anti-US imperialism thing? Raul and US President Obama chummed it up at a Latin American summit last year and, during Obama's visit to the island in March, at a baseball game.
This was probably all inevitable. Cuba's self-declared status as "first free territory in the Americas" was always undermined by a need to depend on a wealthier outsider to prop up its economy. First the Soviet Union, of course, with its barter trade and military supplies to the island. That all crashed with the USSR's collapse. Then Venezuela, flush with oil, plugged Cuba's energy needs. Compared to a Venezuela in economic depression, hunger and spreading chaos, Cuba looks like a Scandanavian paradise.
So it's back to Tio Sam and the likely flood of tourism and at least trickle of investment that give Cubans  some hope of pocketing dollars. An early view of Cuban desperation is visible in the explosion of jinoterismo, the practice of hustling (literally, a jinotero is a jockey. Let the image, as related to prostitution, sink in.) As doddering at Fidel is now, he must notice the degrading spectacle of male and female prostitutes lined up on Havana's waterfront drive heralding the prosperous return of a major occupation of the poor. The BBC, in a flattering 90th birthday card to Fidel, noted that one of his achievements was to erase Cuba's reputation as whorehouse of the Caribbean. The reporter should have left his hotel more often, or at least visited the bar.
Anyway, it seems no massive public outpouring is planned for the birthday. Venezuelan President Nicolas Maduro will visit, perhaps to do some grocery shopping. There is a cornucopia of press praise and a special 16-page edition of Granma. Fidel penned a brief autobiography published today in which he added a pessimistic query on whether the Earth can possibly support its growing population. Also, about the need for peace. Having not done so well in fixing Cuba, Fidel has turned his attention to fixing the world.
The New Yorker looks back.
Birthday card from Russia, with love.
Tobacco prdoucers':  world's longest cigar.