Cairo—Russia commemorated the 70th anniversary of the end of World War II yesterday with a somber laying of wreaths at the monument to the unknown soldier, a massive military display in Red Square and the notable absence of  leaders from the Soviet Union's wartime allies, the United States, Great Britain and France as well as from the countries that had been occupied by the Nazis on the way to the invasion of Russia proper.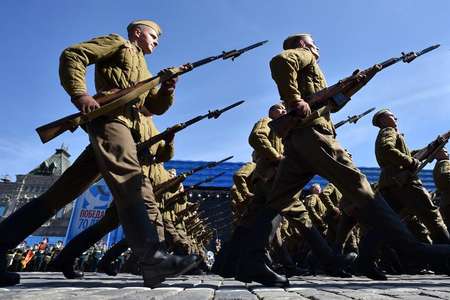 The absence was notable for two reasons: the snub is galling to the Russians, for whom the 'Great Patriotic War' was an event of national suffering and pride for beating Hitler and saving the world; and the boycott reflects the tensions that have risen up between Russia and the West due to Moscow's invasion of parts of Ukraine and its support for separatist rebels.
With Russia beefing up forces on Ukraine's eastern border, the US sending trainers to western Ukraine and tension in between, we're all in Cold War mode.
Anyway, put aside the military pomp and the geopolitical circumstance, sit back and watch agreat film from Russia about the war. It's called Ivan's Childhood (Иваново детство), sometimes known in the West as My Name Is Ivan, by the fine director Andrei Tartovsky. Helps you understand the depths of feeling about a war that took 20 million Russian lives.
In Russian, without subtitles:
https://www.youtube.com/watch?v=X-cOMy9k-6s
With English subtitles in two parts:
http://www.dailymotion.com/video/xz9vod_ivan-s-childhood-1962-pt-1_creation
http://www.dailymotion.com/video/xzblm9_ivan-s-childhood-1962-pt-2_creation