Pope Francis left Egypt Saturday after a two-day visit to a country beset by chronic anti-Christian violence and where he pleaded for tolerance, civility and dialogue among religions.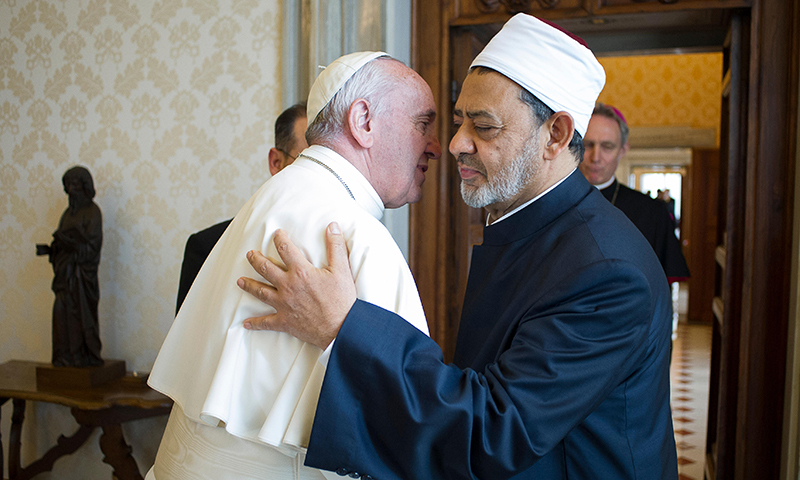 Pope Francis and Sheikh al-Tayeb: The imam spoke more pointedly.
Not much new there and he said little directly about persecution of Christian communities in the Middle East, nor even about the recent deadly bombings of Christian churches in Egypt.
The Pope seemed as determined to put distance between the image of Islam and the global terrorist wave as address the Christian plight. For instance, Francis dropped statements he had made in other countries that Christian communities in the region face genocide.
Instead, and maybe hopefully, it was left to Ahmed al-Tayeb, the chief imam of al-Azhar, the influential educational and religious complex in Cairo, to offer up a prescription for ending persecution of Christians and other minorities.
Two days in advance of the Pope's visit, al-Tayeb dismissed the formal discrimination against Christians (and Jews) as practiced under Islamic Caliphates dating from the Seventh Century until the fall of the Ottoman Empire in the 1920s. Presumably, this would include the special poll tax demanded from Christians and Jews living under Islamic rule and any other kind of inequity.
"The Caliphate era was being ruled by certain legislations suited to its era regarding non-Muslims and their rights in the Caliphate. However, it makes sense, and according to Islam as well, that if the political system changes, many related legislations change with it," Al-Tayeb said.
"There is no doubt that citizenship is the true guarantee to achieving the absolute equality of rights and duties between Muslims and non-Muslims."
Two months earlier at al-Azhar, a conference between Muslim officials and representatives of Eastern Christian churches concluded with a call for equal citizenship under "the practice of coexistence in a single society founded on diversity, pluralism and mutual recognition."
The meeting's closing declaration endorsed the concept of a "National Constitutional state founded on the principles of citizenship, equality and the rule of positive law." Under such an arrangement, no one could speak of citizens, including Christians, as belonging to a minority, the statement said.
In addition, the conference demanded that any "association of Islam or any other religions with violence be brought to a stop."
The endorsement of equal citizenship is clearly welcome for anyone seeking an end to persecution of minorities. Al-Azhar is a prestigious institution throughout the Islamic world, although neither al-Tayeb nor any one religious leader speaks for all Muslims.
Of course, the call for a constitutional state and rule of law might ring hollow in Egypt itself, governed as it is by an ex-general who seized power in 2013 from an elected, if incompetent and authoritarian president, Muhammed Morsi, a Muslim Brotherhood leader.
Although Sisi's anti-Brotherhood campaign is being carried out in the name of anti-terror, he has found time to imprison secular opposition figures, including some who were involved in the 2011 popular uprising to oust long-time ruler Hosni Mubarak. Sisi has pledged to put Egypt on the road to democracy, yet freedom of the press, speech and labor rights to strike have all been proscribed.
And Copts, the main Christian sect in Egypt, continue to be subject to terrorist brutality and the government's inability to curb sectarian violence. The Palm Sunday bombings of Coptic churches in the Nile Delta town of Tanta and in Alexandria that took 46 lives were the worst so far this year. In December, a bomb killed 29 worshippers at a church in Cairo. Francis visited the Cairo church on Friday.
In that context, perhaps al-Tayeb was simply limiting his call for plurality and tolerance to the religious realm, and put civil rights issues aside so as not to offend Sisi. This, unfortunately, puts the al-Azhar establishment and even the Coptic hierarchy as tacitly complicit with Sisi's iron rule.
Francis did a little better, calling for, "unconditional respect" not only for equality and religious freedom but also freedom of expression. It's unlikely Sisi will take Francis' advice.
February al-Azhar statement on religious tolerance.
On the ground, intolerance toward Christians in Egypt.
From the right, a critique of Francis and al-Tayeb.
Human Rights Watch on death squads in Egypt.