London–In South Africa, administrators of the University of Cape Town have decided to remove a statue of Cecil Rhodes,  empire builder, diamond magnate, British politician, exploiter of black labor and the school's 19th Century benefactor,  from the campus entrance.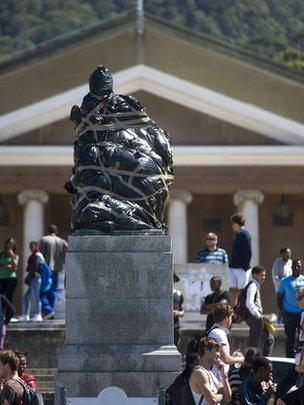 To many outside South Africa, Rhodes' name is probably associated with scholarships handed to bright and athletic college students to attend Oxford University. For protestors, he is racist scum whose statue not long ago was properly smeared with feces and covered with black garbage bags by local Trotskyites.
The debate over what to do, if anything, about the statue has raged over two points: is it simply an historical relic or is it a grating and arrogant  reminder of the persistence of white supremacy?

There are plenty of examples of monuments elsewhere which conjure up displeasure for many but are left standing. Visitors to Rome might be surprised to see an obelisk dedicated to Mussolini still upright near the city's Olympic stadium. Small World War II memorials, usually dedicated to dead soldiers, are sprinkled throughout Germany. Mississippi's state flag still bears the stars and bars of the confederacy and Robert E. Lee statues dot the American south.
Activists, operating under the slogan "Rhodes Must Fall," protested Rhodes' seated bronze presence at the university because it reminds South Africans of their traumatic oppression and makes black students feel uncomfortable.
Underlying the issue is the feeling that 21 years after the end of apartheid, and despite South Africa's reputation as an emerging economic powerhouse and increasing welfare payments, about 45 per cent of the population lives in poverty, according to recent statistical studies.
In any event, more monument removal is probably in store. Students at a university named after Rhodes are clamoring for a name change; statues of Britain's King George VI and Queen Victoria have been splattered with paint. Over in Zimbabwe, where Rhodes is buried, supporters of perpetual president Robert Mugabe are threatening to dig him up and send the bones to Britain.
What will be done with UCT's bronze Rhodes? The alternatives so far: to put him in a museum, or in the words of the revolutionary socialists, have the "masses crush him."
Here's a brief take on the controversy.
This is a lengthy and passionate rationale for removing the statue.
And here is the latest on South African poverty.