Though the stakes would seem to have been wildly incomparable—Russia's crackdown on a national pro-democracy movement measured against China's destruction of democracy in tiny, semi-autonomous Hong Kong—the concerns for the authoritarian government of each were all but the same.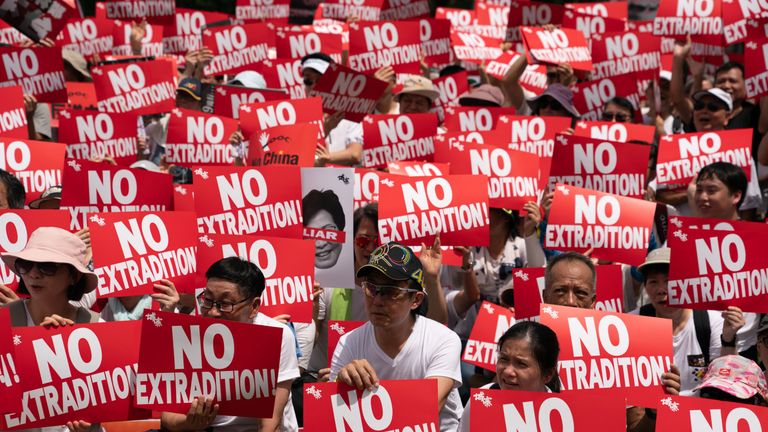 Not to Xi Jinping's taste: Hong Kong democracy protests
The leaders of both countries—President Vladimir Putin in Russia and China's President Xi Jinping– faced electoral events that challenged their aura of control. For each, as is common for authoritarian leader, elections are not meant to offer alternatives but ratify entrenched power. For political opponents to triumph, or even gain strength, was unthinkable.
Because Russian and Hong Kong pro-democracy activism both grew in tandem with grass roots mobilization, memories of numerous such movements concerned both Putin and Xi: The so-called Color Revolutions that undid pro-Russian governments in Georgia and Ukraine; the mass protests of the Arab Spring that overthrew autocracy in Tunisia (and attempted to, but failed in Egypt and Syria); the late 1980s wave of revolts in eastern Europe that hastened the fall of the Soviet Union and the Warsaw pact; and, even earlier in the 1980s, the People Power Revolution that undid a long-running dictatorship in the Philippines.
In Beijing there is particular mindfulness of 1989's Tian An Men student protests that the Peoples Liberation Army violently put down. In Hong Kong commemorations of the event have been banned for two years running.
The West responded to the wave of repression in both Russia and Hong Kong with staunch criticism and an array of economic sanctions largely imposed on government officials. The measures failed in any way to ease pressure on beleaguered democrats. For the Kremlin and for Zhongnanhai, seat of China's government, maintaining the aura of absolute power is far more important than the inconvenience of scattered sanctions.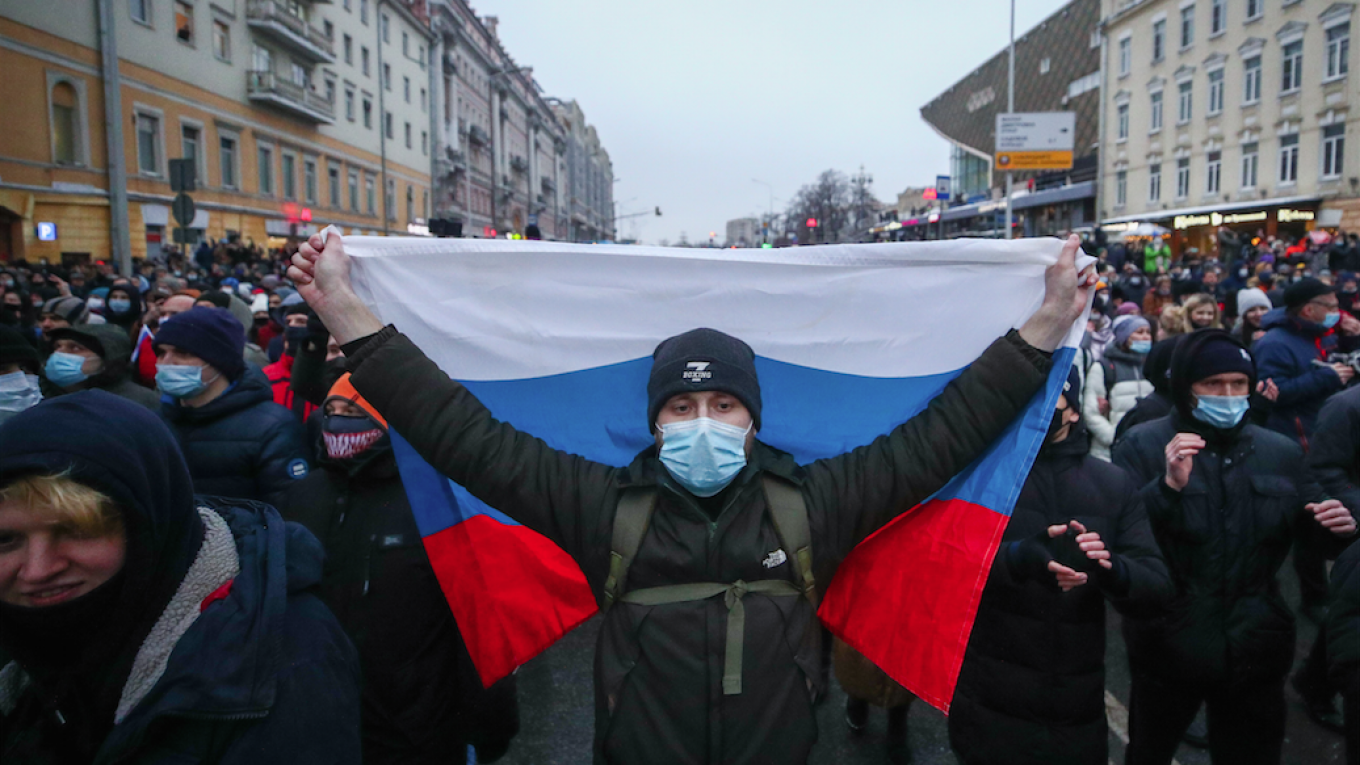 Not to Putin's taste: Pro-Navalny protests
In Russia, the suppression of democratic opposition was dramatic: the effort to assassinate opposition leader Alexei Navalny; having survived, he was dispatched to jail; the subsequent expansion of "anti-extremism" laws aimed at destrying his anti-corruption and pro-democracy movements.
The institutional challenge for Putin were legislative elections for parliament, known as the Duma, scheduled for September. On the surface he had little to fear as far as maintaining his personal power. His approval ratings remain high—over 60 percent—despite economic difficulties in Russia. A national referendum already gave him the possibility of ruling until 2036. The media and once-influential oligarchy had long been tamed.
But support for his client United Russia party recently plummeted. A March poll estimated voter support for United Russia at an all-time low of 27 per cent. The party currently controls a supermajority above two-thirds of seats. The margin provides Putin the legal veneer being able to pass legislation or even alter the constitution without dealing with rivals. More importantly, losses by United Russia would undermine the ever-macho Putin's aura of political invincibility.
Electoral fears and needs for China in Hong Kong were similar. The territory is scheduled to hold elections for its Legislative Council, the local parliament, in December.
Dissatisfaction with Beijing's efforts to impose new controls on Hong Kong had stirred massive protests in 2019. Sustained demonstrations sometimes turned violent, often in protest of police brutality. Tear gas, Molotov cocktails and sometimes bullets flew in the financial hub.
Clearly Hong Kong democracy activists were trying to make good on a promise key to the 1987 handover of the territory from Great Britain to China: that the territory would enjoy a "high degree of autonomy" until 2047.
Nonetheless, Beijing and its allies in Hong Kong placed hopes that local district elections held in late 2019 would domesticate the opposition. District council elections are usually dull affairs that simply select officials tasked with delivering neighborhood services, like picking up garbage. Central government officials in China and their Hong Kong backers were confident that a Hong Kong "silent majority" had wearied of turbulence and would vote for pro-Beijing candidates.
China's People's Daily, the Communist Party newspaper, and its nationalistic sister publication Global Times, for instance, both predicted a high turnout would demonstrate "the hope of Hong Kong residents that the chaos will not continue."
Turnout was indeed high—71 per cent—but pro-democracy candidates won 90 per cent of seats.
Suddenly, it looked like the opposition would also take over the Legislative Council. Like Putin, Xi faced a humiliation, even if Hong Kong is home to 7.5 million citizens compared to China's 1.4 billion. The vote to renew the legislature, scheduled for September, 2020, was postponed in the name of Covid-2, and then delayed again from this September until December.
In the meantime, China imposed a Security Law on Hong Kong that criminalized supporters of "separatism" and a graver charge, "terrorism." They added "subversion," a charge used on mainland China to prosecute journalists, lawyers and scholars deemed critical of the government, was included in forbidden activities, Amnesty International asserted.
Pals.
Courts in mainland China were authorized to judge breaches, a decision in a stroke that undid Hong Kong's resistance to extradition.
The law immediately froze opposition activism. Pro-democracy organizers hastily beat a retreat by disbanding their organizations. Some fled abroad. Students, who were major participants in Hong Kong's wave of protests, were put on notice by the territory's education secretary to neither sing, chant or organize anything with a political message. Catholic authorities cautioned priests not to discuss politics.
Activists faced trial and were jailed. Jimmie Lai, a high-profile opposition figure and media magnate, was accused of colluding with foreigners, another vague charge under the security law. He was imprisoned, denied bail and had his substantial assets frozen. He is serving 20 months in prison for organizing an illegal assembly that took place sometime before the security law was passed.
Judicial hurdles were apparently not enough to ensure an end to opposition. In March, Beijing's rubber stamp National People's Congress authored changes to Hong Kong's electoral system that reduced the number of candidates elected by direct popular vote, while those appointed by a pro-Beijing "election committee" and by corporatist groups—business, trade groups and the like–were increased.
The current Legislative Council approved the measures. They effectively drove a stake into the main goal of the pro-democracy movement: to replace appointments by Beijing and Hong Kong interest groups by a "one person one vote" electoral system.
Thus, has democratic effervescence in Russia and Hong Kong been tamped down for the foreseeable future. Putin remains unchallenged, his chief opponent behind bars. Hong Kong's "high degree of autonomy" has been cut short by 26 years.
Outsiders may shrug at the remarkable persistence of autocracy in Russia and China—after all, it's a means of governing that predominates the long history of each,. And Western governments, while distressed at the turn of events, insist there are important issues that must be handled with each nation, no matter who is in charge.
Yet, Russia and China appear to have wider global plans, for which control at home is fundamental: undermining and even undoing the liberal order in the West. In an article this week in Foreign Affairs, Hal Brands, a professor of global affairs at the Johns Hopkins School of Advanced International Studies, put it like this:
"Different models of order at home produce different visions of order abroad: Russia and China want to weaken, fragment, and replace the existing international system because its foundational liberal principles are antithetical to their illiberal domestic practices.
"The danger, then, is that Moscow and Beijing will make the world safe for autocracy in ways that make it unsafe for democracy."
Clearly, both Russia and China made certain that democracy is unsafe at home.