Rome—Donald Trump's victory in the US presidential vote is sure to embolden similar anti-establishment movements in Europe and elsewhere.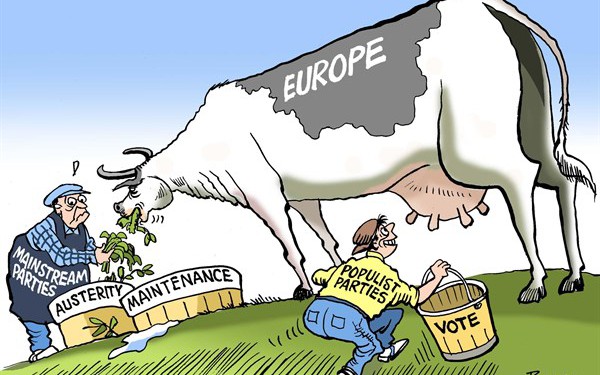 To be clear: It is wrong to suggest that Trump was a pioneer in anti-globalization and anti-immigration sentiment, tinged as his was with racism. Such feelings were at large in Europe long before the American real estate magnate decided to run for president.
But as one Italian friend told me today, "Now that the US has decided to walk toward the unknown, surely other countries will follow."
The first two tests of a possible Trump knock-on effect will come on December 4. On that day, Austria returns to the polls to elect a new president. He will possibly come from the anti-immigration, nationalist, anti-European Union right wing.

Italy votes on political reform the same day. The measure, which would reduce the power of the Senate in favor of the Chamber of Representatives, is backed by the government of Prime Minister Matteo Renzi. Thus, opponents see it as a referendum on his rule. In a sign that Renzi recognizes the ant-government mood in economically slow-growing Italy, he has ordered the blue EU flag to be removed from press conferences at his prime ministerial office. Suddenly,Italy's red, white and green flag will stand alone, and even multiply, as it did on Renzi's Facebook page yesterday.
France and Germany hold presidential elections next year. Marine LePen's France-for-the-French National Front is poised to at least make the second round of votes. Germany's ruling coalition centered on Chancellor Angela Merkel, faces threats from regional anxiety over last year's open door refugee policy a newly-born immigration-fearful right wing movement.
The United Kingdom already had its anti-establishment moment when the British voted to leave the EU last summer. The main issues were similar to those elsewhere: growing nationalism and economic worries and resentment of an out-of-touch ruling elite.
In fact, if anything, Europe has been in the vanguard of populism. I would place Russia's Vladimir Putin as leader of the pack. He took power in the year 2000 on the back of issues similar to those that fueled Trump's victory: in 1998, the ruble had collapsed, shaving the savings of millions; a year later, he opened the war on Chechnya in the name of fighting terrorism; Russians had become disillusioned with globalization–then operating under the rubric of neo-liberal economics–which seemed only to impoverish Russia grew; and nationalism intensified as Russians felt they were disrespected by the West.
Putin answered all this with an authoritarian turn toward hyper-nationalism, takeovers of major oil producers and eventually, an aggressive anti-Western foreign policy.
LePen's movement long preceded Trump's arrival. The large Italian protest Five Star Movement was born seven years ago. Spain's Podemos was born during the 2007 pan-European economic crisis.
Eastern Europe, notably Hungary, Poland and the Czech Republic have also made turns toward nationalism in the face of the bureaucratic EU.
Further afield, the Philippines has a new president, Rodrigo Duterte, whose language would make Trump blush–and his version of anti-establishment rhetoric has been to bash the US. But he welcomed Trump's election, noting, "We both like to swear."
Globally, Vox says it's all about being white.
In Europe, it's all about nationalism.
In Foreign Affairs: A history of US populism.